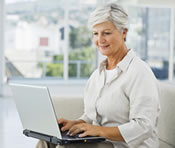 Dealing with age-related eye health issues isn't easy. Just ask internationally acclaimed actress Judi Dench. Most famous for her role as "M" in films like "Quantum of Solace", "Skyfall 007" and "Golden Eye 007", the star announced last year that these vision issues has affected both of her eyes and she can no longer read scripts.

Age-related eye health issues affect millions of Americans each year. These issues can gradually destroy central vision and are the leading causes of severe vision loss in adults over the age of 55. There is no cure and the damage it inflicts are irreversible.
Like millions of others that have been diagnosed, Dench is determined to keep living the life she loves. Thankfully, low vision specialists can recommend assistive devices or conduct vision-related training for sufferers to adapt. Here are a few of their tips on how to stay independent with age-related eye health issues.
Make the Most of Sight
Ms. Dench understands the value of a well-lit room. "Lenses and glasses and very bright light helps," she told The UK Mirror.
Adding more lamps and lighting throughout a home, especially near steps, can make daily tasks and navigation easier. Penlights are useful for those times when more concentrated light is needed.
But it's not just about the quantity of light–quality is also key. Reducing glare by installing blinds or shades on windows within the home can be advantageous. Anti-glare sunglasses and visors can be of service when outside.
While completing daily duties, many with the condition find it helpful to use paint or tape in contrasting colors to identify and use household items. For example, outlets and switch plates become much easier to find when they stand out.
Take this idea a step further by using dark-colored plates, cups, and utensils on a lighter-shaded countertop to make meal preparation and eating that much easier. Dark-hued towels placed in a bathroom are trouble-free to find when hung against a lightly colored wall.
Stay Active via Audio
When reading becomes a challenge, many people turn to books on tape, CD's, or use screen-reader software. Since most people rely on visual cues to help them recall information, they don't typically develop the ability to remember what they hear. In this case, focusing full attention on what one is listening to is valuable.
Dench admits learning a script is more difficult these days. She relies on her sense of hearing as well as friends and family to help her: "I can't read scripts any more before because of the trouble with my eyes. And so somebody comes and reads them to me, like telling me a story."
Luckily, there are also a number of audio products to empower independence—like "talking" clocks, scales, calculators, and watches too.
Tune into Touch
As eyesight wanes, other senses become more acute. Some people discover their sense of touch can be of huge help. This means focusing on textures of fabrics while recalling a mental image of a garment when choosing clothing from the closet.
According to the Bright Focus Foundation, "A cane can be used as a "feeler" to navigate the closeness of objects or stairs. Canes or walkers can also help with uneven terrain like broken sidewalks too.
Set up a System
Setting up consistent places for items like keys, the mail, purse/wallet and other necessary items can reap big benefits for those suffering from age-related eye health issues. This also means making a point to remove any clutter in order to create wide walking paths and eradicate tripping hazards.
While sight changes and the necessary adjustments can feel daunting, many people discover their sense of confidence bolsters as they adapt to living with low vision. Dench can relate.
"What I can do, I do," she told reporters. "And I somehow get by.
Nosh Nutritiously
Eye health and nutrition are intimately connected. Lutein and dietary zeaxanthin are incredibly important nutrients for protecting the quality of one's vision. But many Americans don't eat enough foods with these nutrients on a daily basis. However, eye vitamins can help you get the nutrients needed for better vision.
Eye Spy
Last but not lease, check ups for those with age-related eye health issues, or at those risk for developing these issues, are paramount to preserving what vision you have. The National Eye Institute recommends people 60 years of age or older, get a full, dilated eye exam at least every other year.