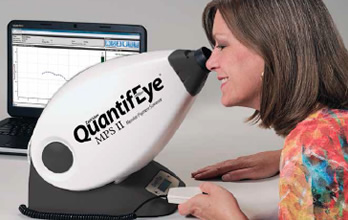 According to the Review of Optometry, more than seven million people across the United States, aged 40 and older, suffer from diabetic retinopathy. Another 11 million people in the US past the age of 40 suffer from age-related macular degeneration (AMD), notes Macular Hope. Combined, they are the leading cause of blindness in adults.
That's why we've partnered with VSP Vision Care to launch VSP Eye on Wellness. The campaign will provide optometrists with free, continuing education seminars regarding diabetes, AMD and eye health. Featured speakers will be A. Paul Chous, MA, OD, FAAO, and Jeffry Gerson, OD, FAAO. The program kicks off next month.
VSP Mobile Eyes will also be partnering with local VSP doctors to provide free eye exams and eyeglasses to residents in need during the campaign. When they do so, they'll be using ZeaVision's QuantifEye MPS II device to measure Macular Pigment Optical Density (MPOD) to assess health risks for AMD. The instrument is the most reliable and accurate device on the market for measuring this biomarker. Published studies exist on nutrition, macular pigment, and the impact on eye health. For more information, check out our science summary.
Vision Monday, which published the announcement, posted that the "VSP Eye on Wellness will launch in San Francisco on July 20, 2014, with the first of eight free COPE-approved continuing education (CE) courses. Four hours of CE on AMD or diabetes will then be offered to all licensed optometrists in Arizona, California, Georgia, Illinois, New York, Ohio, South Carolina and Texas in subsequent months."
We're very excited about joining with VSP on their quest. Since 2001, ZeaVision, the parent company of EyePromise, has been passionate about fighting AMD while optimizing eye health through nutraceuticals.
"VSP's mission is to help people see," said Jim McGrann, president of VSP Vision Care told Vision Monday. "By expanding the VSP Eye on Wellness program, we can increase patient awareness and access to care while providing doctors with the most up-to-date information to provide the highest quality of care for those who have or are at risk for diabetes and AMD."
For more information about the relationship between nutrition and eye health, check out our Learning Resource Library.