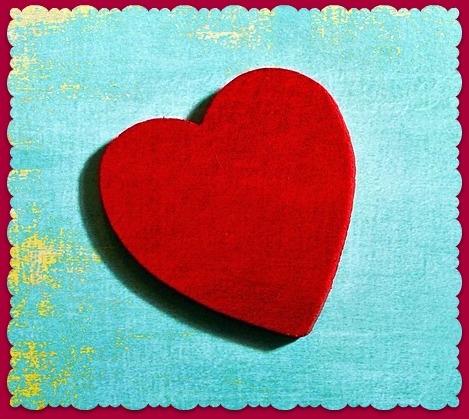 Each year on February 14th, many people exchange cards, candy, gifts or flowers with their special "valentine." The day of romance we call Valentine's Day dates back to the 5th century. For those of us in health care, Valentine's Day also serves as a reminder to do our part to reduce the risks for heart disease and stroke, and stay "heart healthy" for our patients, our loved ones, and ourselves. During the month of February, Americans see the human heart as the symbol of love. February is American Heart Month, a time to teach our patients about a leading cause of death worldwide.
Heart disease and age-related macular degeneration (AMD) have much in common. We believe that AMD constitutes a "sick eye in a sick body". A growing body of evidence supports a link between AMD and cardiovascular disease. Oxidative stress and inflammation are likely the most common pathways. Indeed, inflammatory biomarkers associated with cardiovascular disease, namely C-reactive protein, homocysteine and interleukin-6, are also significantly elevated in patients with AMD. Molecular composition studies suggest that drusen are the result of local inflammation, and that the formation is a similar process as in other age-related diseases, such as atherosclerosis and Alzheimers disease, that also result in accumulation of extracellular plaques and deposits.
Cigarette smoking in multiple large population studies has been consistently shown to be a risk factor for both AMD and cardiovascular disease. Recent research reveals a link between raised plasma levels of matrix metalloproteinase-9 (MMP-9) and AMD. MMPs are also implicated in the pathogenesis of atherosclerosis.
What is good for the heart also appears to be good for the eye. Such positive measures include physical activity, antioxidants (including macular pigments zeaxanthin and lutein), omega-3 fatty acids (especially from fish), a reduced glycemic index diet, and good vascular compliance (healthy blood pressure, body mass index and cholesterol).
Along with hypertension, smoking, poor diet, physical inactivity, and obesity, dyslipidemia is an important risk factor for both coronary artery disease and cerebrovascular accident. Every attempt should be made to control serum lipids with appropriate diet, exercise, weight loss in obese patients, and control of any medical conditions, such as diabetes mellitus, hypertension, and hypothyroidism, that may contribute to lipid abnormalities.
Dietary omega-3 polyunsaturated fatty acids (omega-3 PUFAs) exhibit a broad array of biological activities in health and disease, including anti-inflammatory, lipid lowering, and the prevention of coronary heart disease. The most prominent dietary sources of omega-3 PUFAs include fish oils abundant in eicosapentanoic (EPA) and docosahexanoic (DHA) acids along with plants foods rich in a-linolenic acid. Examples include salmon, sardines, trout and herring.
Dietary sources of alpha-linolenic acid include:
Flaxseeds, and flaxseed oil
Canola (rapeseed) oil
Soybeans and soybean oil
Pumpkin seeds and pumpkin seed oil
Perilla seed oil
Tofu
Walnuts and walnut oil
Supplementation with a high quality, pharmaceutical-grade omega-3 based nutraceutical such as EZ Tears may be prescribed to fill in any dietary gaps.
This February, please join us as we show the heart–and the eye—some much needed LOVE.
Best of health to you,
Claire E. Pizzimenti, OD, FAAO and Joseph J. Pizzimenti, OD, FAAO
Dr. Claire Pizzimenti graduated in 1990 from the University of Houston College of Optometry. She completed her residency in hospital-based/rehabilitative optometry at the West Side VAMC in Chicago, IL in 1991, and . continued there as an Attending Optometrist until 1995.
After relocating to Florida with her husband, Joe, Dr. Pizzimenti accepted an appointment as Attending Optometrist at the West Palm Beach VAMC, where she provided patient care for 5 years. Between 2000-2005, Dr. Pizzimenti worked at a large ophthalmology practice in Boca Raton, FL.
Throughout her career, Dr. Pizzimenti has trained both optometry students and residents. She has published several papers in Pub Med journals such as Optometry and Vision Science, Archives of Ophthalmology and The Journal of the American Academy of Optometry. She was co-principal investigator for a Veteran's Administration funded research grant. In 1998, Dr. Pizzimenti authored a textbook chapter entitled Ocular Prosthetics in Clinical Optometric Pharmacology and Therapeutics.
In addition to caring for the couple's three children, Dr. Pizzimenti currently works in private practice and provides vision screenings for private schools in Palm Beach County, as well as Head Start and other programs.