When Optometrist Jason Lake discovered EyePromise macular health supplements, he was skeptical.
Lake, who owns Eyecare Specialties, with practices in Clinton, Sedalia, and Warrensburg, MO, had been less than impressed with many of the eye vitamins on the market. Without a way to gauge the effectiveness of supplements, he likened it to selling "hope" in a bottle.
"I don't want to sell 'hope'" Lake told a group of constituents during a lecture in Illinois earlier this year. "I wanted to be able to quantify, to be able to look them in the eye."
When he learned about the EyePromise line of vitamins, his interest was piqued. But what intrigued him most was ZeaVision's MPS QuanifEye, a device to measure a patient's macular pigment optical density (MPOD) score.
The QuantifEye MPS II is a Heterochromatic Flicker Photometry device used to measure the density of a person's macular pigment. The technique is based on the fact that macular pigment acts as a filter that affects visual sensitivity to different wavelengths of light. Macular pigment tends to absorb blue light more than green light. A person's score on this test is calculated based on the amount of time it takes to saturate macular pigment with light.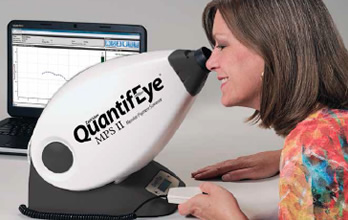 By using this device, a doctor can get a benchmark on a patient's pigment levels and assess his or her risks for developing Age-related Macular Degeneration (AMD). Since the EyePromise supplement line is guaranteed to increase macular pigment optical density, Lake realized he could even use the device to chart a patient's progress while on the supplements.
For Lake this instrumentation helped him, and his patients, gain a greater understanding into the relationship between proper nutrition and vision performance. The device also helped him drive home the point that supplementation can be of big benefit to eye health.
"Through the device, I can get a definite answer on what's going on," he explained
As he raised awareness of the new technology his practice offered, he educated patients on eye health, nutrition, and supplementation. Lake gleaned a number of interesting insights that benefitted his practice.
"Typically, more than 80% of patients respond to supplementation," he told the group. "I've got to be honest with you. In my practice, I'd say it's way higher than that."
Seventy-eight percent of the United States population has an MPOD score ranging from 0.0 to .40. A score ranging from .50 to 1.0 is considered healthy. The average increase in MPOD scores after 6 months of supplementation is 54%.
"My personal experience is not everyone responds the same. Some people take longer than others to see an increase in MPOD score," Lake added.
Lake, who began his partnership with EyePromise, many years ago, admits he couldn't have predicted the overwhelming response his patients have expressed as a result of incorporating the QuantifEye device and macular health supplements into his practice.
"I would say the biggest thing I was surprised about was that my patients were genuinely pleased that I talked to them about (eye health and nutrition)," he said. "It has been a wildly successful referral source for me. Everybody knows somebody with AMD. "
As for the quality of the supplements, Lake is a firm believer in the EyePromise brand. His patients often share stories of their unexpected EyePromise experiences during visits.
"I've even had patients come in and tell me they've had lower glare and an easier time with night driving," he said.