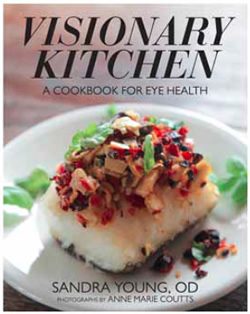 The number of Americans visually impaired due to type 2 diabetes, or age-related macular degeneration is ever-growing. While genetic components can, and do, affect a person's chances of developing either disease, diet as well as lifestyle, can alter the risk of developing a visual impairment. Researchers have found nutrition plays a key role in optimizing a person eye sight.
That's precisely why Sandra Young, OD, set out to create a cookbook for eye health. Her award-winning book, Visionary Kitchen is the result of her experience as a home chef and optometrist. In fact, many decades ago, the author found herself in a quandry over which career course to take. Should she pursue culinary or optometry school?
Thankfully, she was able to combine her passion for both within Visionary Kitchen. From Salsa Verde to Ginger Pumpkin Custard, each flavorful recipe she's developed is loaded with eye-friendly nutrients.
In fact, here she is dishing on eye health, antioxidants like zeaxanthin as well as lutein, and offering cooking tips when it comes to making some of the recipes in her book. (In this clip, she talks about making a chocolate mousse.)
EyeCare Professionals: Buy Sandra's book or WIN your own copy of Visionary Kitchen and a $50 Amazon gift card! To enter this drawing, leave us a comment along with your email address. Earn an extra entry by subscribing to our newsletter in the right-hand column then leave us a comment. If you're already a subscriber, leave us a comment — you're automatically eligible for a bonus entry!)
Contest ends August 20 at 11 p.m. We'll randomly choose a winner on August 22 and announce on our blog the following week, 2014. (Participants must be eye care professionals, older than the age of 21, and live in the United States. Void where prohibited.)
Learn more about eye health and nutrition through a recorded webinar from Dr. Joseph Pizzimenti, OD. The webinar is called, "The Emerging Link Among Nutriton, Genomics, and Visual Performance".